Rainbow River Home for Sale in Dunnellon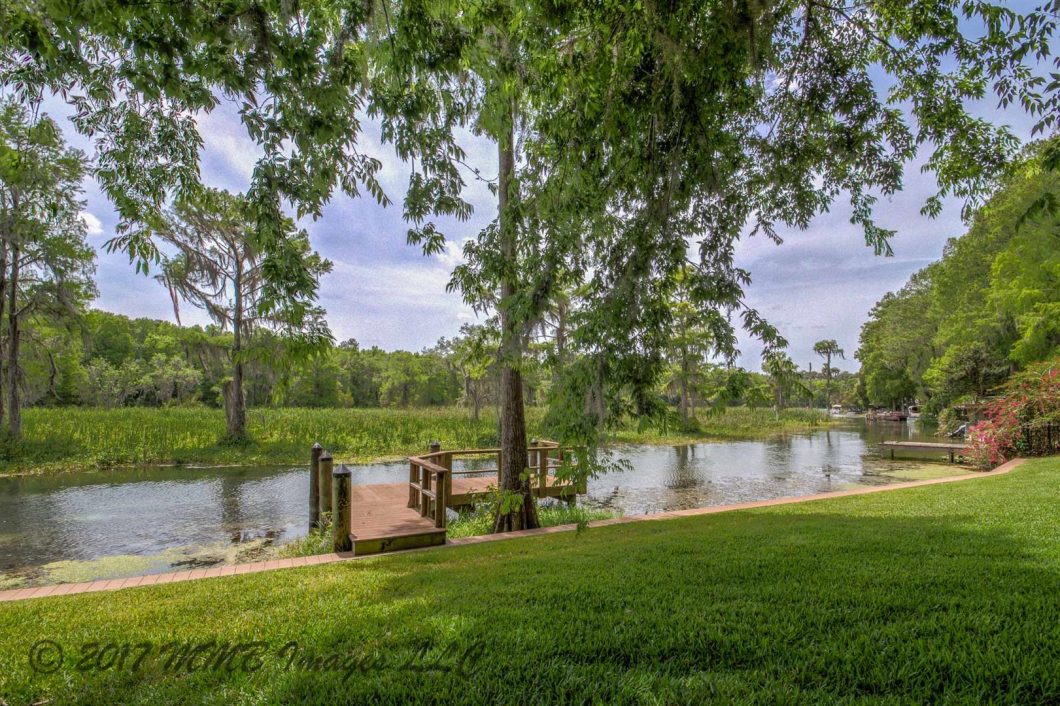 Rainbow River – You will love the location of this Rainbow River Home for Sale!
Discover this gem with 2,842 sqft, positioned on a .46 acres lot.
Be amazed by stunning vistas over the Rainbow River from the living room, screened porch, or sitting at the desk in your office! Observe great natural wildlife, watch Egrets, Herons and Turtles around an on your property. Stroll down to your dock, take the boat and cruise the crystal clear Rainbow River for snorkeling, swimming or tubing. Go down-stream and within minutes the Rainbow joins the Withlacoochee River, with miles and miles of waterways that are part of the Florida Paddling Trail! Outdoor enthusiast will embrace numerous trail heads for biking and hiking close by!
An additional bonus: This Rainbow River Home for Sale featured a 3 room workshop with a separate entry – ideal for a home based business or to be converted into a mother-in law apartment!
More about the river of this Rainbow River Home for Sale from this website.
Rainbow Springs State Park is comprised of 1,459.07 upland acres (which includes around 100 acres of wetlands) and 12.83 submerged acres. The most significant natural feature is the first magnitude headspring basin which produces between 400 – 600 million gallons of fresh water per day, forming The Rainbow River. The looking glass waters of Rainbow Springs come from several vents, not one large bubbling spring. The river itself supports a wide variety of fish , wildlife, and plants, many within easy viewing by visitors.In total, the park contains 11 distinct natural communities, including sandhills, flatwoods, upland mixed forests, and hydric hammocks. Visitors are able to see a variety of wildflowers in season; oak, longleaf pines, magnolia, dogwood, redbud, and hickory trees; gray squirrels, red-shoulder hawks, swallowtail kites, barred owls, whitetail deer, and a wide variety of wading birds. The relative peace and quiet of the winter season offers much for the nature enthusiast. There is an interpretive room located in the visitor center displaying historical, natural, and cultural resources of the park.
Click this link for the full article on this  "Rainbow River" website.
And of course a lot of information on Wikipedia.
The Rainbow River is located in Dunnellon, Florida, United States, in the southwest corner of Marion County, about 20 miles (32 km) southwest of Ocala, 100 miles (160 km) northwest of Orlando and 100 miles (160 km) north of the Tampa Bay area. It is formed by a first-magnitude spring (Rainbow Springs) that is ranked fourth in the state for volume of discharge. In addition to the springs located at the headwaters, there are many smaller springs that discharge from numerous caves, rock crevices, and sand boils the entire length of the river.
The Rainbow River is a gently winding river that is 5.7 miles (9.2 km) long and merges with the Withlacoochee River at Dunnellon, Florida. The headwaters, Rainbow Springs, is the anchor for Rainbow Springs State Park. This first-magnitude spring is not one large vent but is numerous vents that issue 400 – 600 million gallons of crystalline water every day. Rainbow Springs State Park is a popular destination to swim, snorkel, canoe, picnic, or stroll on the walking paths to enjoy the many plants and animals that abound here.
Click this link for the full article on Wikipedia.
Click an image for a larger version. Click your browser's "Back" button to return.
← Back to main site