Country Estate for Sale on 10 Acres in Inverness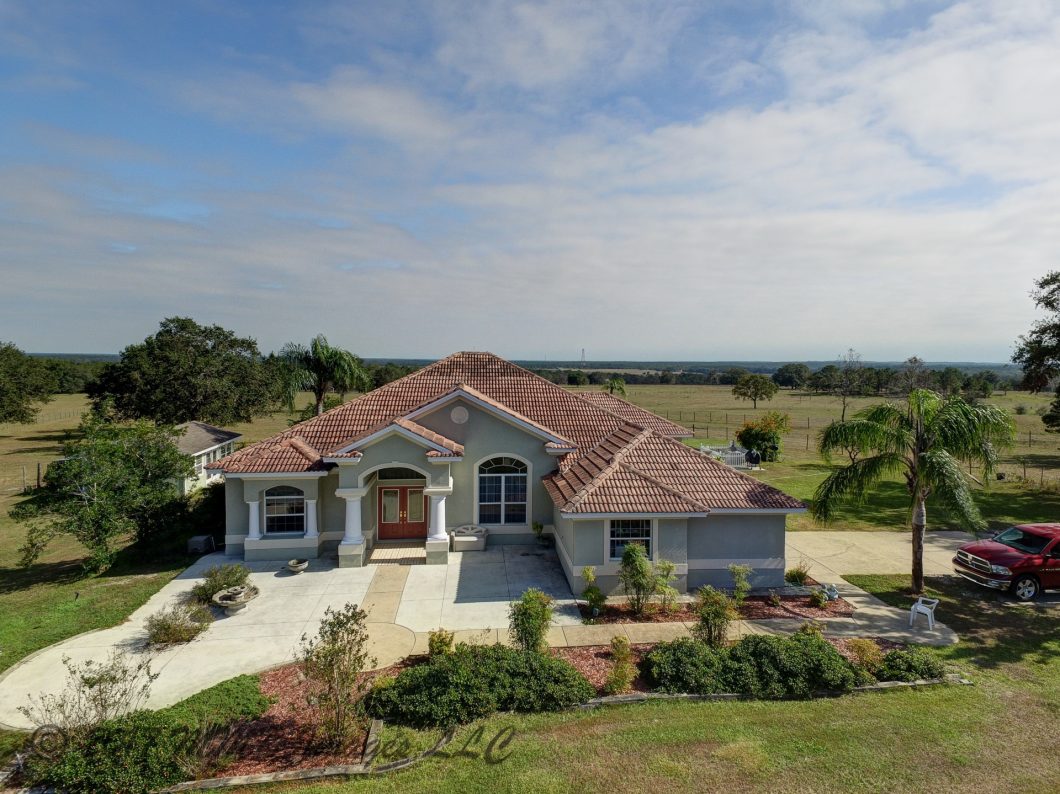 Active
450000.00

Address:




9583 S Pleasant Grove Road




Inverness, FL 34450

Property Type:

Contemporary, Contemporary,Ranch, Mediterranean, Ranch, Residential, Single Family

Location:

Citrus, Citrus, Citrus County, Floral City, Florida, Inverness, Inverness

Beds:

3

Baths:

2.00

Sq Ft:

2329

Lot Sq Ft:

10 acres
Amazing country estate for sale on 10 (additional 18 available) acres in Inverness, sitting high on the hill with scenic views and breathtaking sunsets!
Custom built residence with 12 ft ceilings and an open,airy floor plan. Wall to wall sliders in the great room open up to the large covered patio and screened pool with hot tub for a great view of the countryside! Culinary kitchen comes with Corian counters and a breakfast nook. The sitting area with its large bay windows capturing the sunrise in the morning is the focal point in the master suite. Outside, the grassy pastures are cross fenced. The utility building houses the workshop and is perfect for crafting or recreational activities. A pole barn is available for equipment and machinery.
More information about this country estate for sale on 10 acres in Inverness on the Web:
Citrus County from the Citrus County Commissioners Website.
Welcome to Citrus County.
If you've ever wanted to swim with a manatee, relax in front of a gorgeous sunset, or reel in the "big one" on one of our scenic rivers… then you've come to the right place!
Citrus County was created in 1887 and was formerly part of Hernando County.
It was named for the county's citrus trees. The rich historical culture and variety of shops, water recreation, golfing, and dining experiences, make Citrus County one of the most enjoyable places on the west coast.
More information about this country estate for sale on 10 acres in Inverness on the Web:
From Wikipedia
Citrus County is a county located in the U.S. state of Florida.
As of the 2010 census, the population was 141,236.[1]
Its county seat is Inverness,[2] and its largest community is Homosassa Springs.
Citrus County comprises the Homosassa Springs, FL Metropolitan Statistical Area.
According to the U.S. Census Bureau, the county has a total area of 773 square miles (2,000 km2),
of which 582 square miles (1,510 km2) is land and 192 square miles (500 km2) (24.8%) is water.[9]
There are a number of uninhabited and/or sparsely inhabited coastal islands that can be accessed via watercraft.[10] While some of the Citrus County islands are state lands thus available for public use for recreational opportunities, many other Citrus County islands are private property and are either wholly or partially owned by private parties.[11]
According to the US Fish and Wildlife Services' aerial manatee surveys, as many as 400 of these unique creatures can be found in Citrus County at one time. This typically occurs only during the coldest months of the year.
Manatees can also be viewed in the underwater observatory at Homosassa Springs Wildlife State Park. Most of the park's residents are injured animals either undergoing rehabilitation for future release to the wild, or will be permanent due to their inability to be released to the wild.[12] The notable exception is Lucifer, an African hippopotamus that had prior movie roles. When a permanent home could not be found for Lucifer, then-Governor Lawton Chiles named him an "honorary citizen of the state",thus allowing him to remain at the Park.[13]
More information about this country estate for sale on 10 acres in Inverness on the Web:
Transportation and recreation
Inverness Airport is located 1 mile (1.6 km) south of the city limits, next to the Citrus County Speedway. The Citrus County Sheriff's Office's aviation unit operates from this airport.
U.S. Route 41 is the main north-south road through Inverness, leading north 17 miles (27 km) to Dunnellon and south 21 miles (34 km) to Brooksville. The main east-west road is State Road 44, leading west 17 miles (27 km) to Crystal River and east 15 miles (24 km) to Interstate 75 near Wildwood. The two roads join to form Inverness' Main Street from Talmage Avenue to Highland Boulevard. Other county roads include County Road 581 and County Road 470.
Inverness is home to the Lakes Region Library, which is part of the Citrus County Library System. The library offers several recreational classes such as Tai Chi, painting, gardening, basic technology usage, children and teen programs, and more. Times and services are listed on the library's website.
The Withlacoochee State Trail crosses an old railroad bridge over part of Henderson Lake.
The Withlacoochee State Trail, which replaced a former Atlantic Coast Line Railroad line, runs between two of the chained lakes, with small bridges replacing former railroad trestle crossings. The trail offers access to 46 continuous miles of enjoyment for biking, jogging and walking. It is the longest paved recreation trail in Florida.[10] The Inverness trailhead can be found on North Apopka Avenue (CR 470) across from the trail crossing and Liberty Park.
Other parks in Inverness include Wallace Brooks Park, Whispering Pines Park, the Henderson Lake boat ramps, and Fort Cooper State Park, just south of the city. Inverness is also close to Withlapopka Community Park, the almost 11,000-acre (4,500 ha) Flying Eagle Preserve and the almost 5,000-acre (2,000 ha) McGregor Smith Scout Reservation.
Keywords:
Country estate for sale on 10 acres in Inverness.
Acreage
Inverness Country estate for sale on 10 acres
Farm for Sale
Pleasant Grove
Stage Coach
| | |
| --- | --- |
| Price: | 450000.00 |
| Address: | 9583 S Pleasant Grove Road |
| City: | Inverness |
| State: | FL |
| Zip Code: | 34450 |
| MLS: | 766079 |
| Year Built: | 2003 |
| Floors: | 1 |
| Square Feet: | 2329 |
| Lot Square Feet: | 10 acres |
| Bedrooms: | 3 |
| Bathrooms: | 2.00 |
| Garage: | 2 |
| Pool: | 1 |
Tagged Features:
Location Map
← Back to main site