About Gitta:
My name is Gitta Barth, and I am a REALTOR®, a professional real estate agent.
I do not take the title lightly, nor should anyone to whom service and dedication is important.
I pride myself in having a strong work ethic, and I realize that nothing worthwhile comes without effort.



I am proud to be affiliated with COLDWELL BANKER Investors Realty of Citrus County, Inc. in Inverness.
For more than 30 years COLDWELL BANKER Investors Realty of Citrus County, Inc. has provided professional
real estate services to this community and has established a tradition of excellence.
In keeping with this tradition, personal service and dedication are my hallmarks.
In addition to my extensive experience working internationally, I have a solid personal knowledge about this area
as a long time Citrus County resident and property owner.
Together with the Coldwell Banker network and my personal contacts, I can help you being successful in your real estate quest all over Florida.
Paired with my success in building, rebuilding and remodeling beautiful homes in the past, I certainly have the expertise and resources
to help you make the right decision when buying or selling your home.
So, if you decide that you'd like to buy or sell a home, or need any other information about the area, home values, financing, demographics,
zoning restrictions or future development, please use my contact form by clicking here xxxx.
Or connect with me via Facebook, Linkedin, Google+ or any of the social media sites I'm represented in.
(See the links in the footer on every page)
Keyword: About Gitta, Gitta Barth, Realtor
Awards
In The News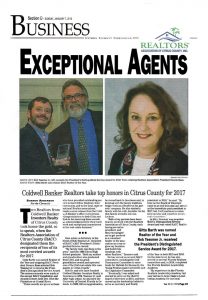 My Association Awards:
2017 REALTOR® Of The Year 2017
Realtors Association of Citrus County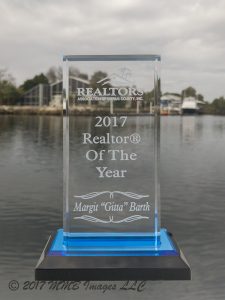 Still a Director of the Realtor's Association of Citrus County Board for 2018.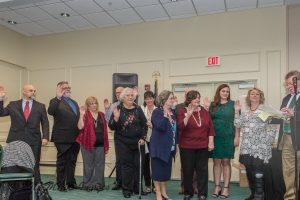 Realtors Association of Citrus County 2017 Officers & Directors
Director 2017:
Coldwell Banker International Sterling Society Awards.
Ranked in 2013 to the top 16%, and in 2014 to the top 17% of Coldwell Banker's sales associates / representatives World Wide.
Became a Director of the Realtor's Association of Citrus County Board for 2015.
Certifications

Graduate of the REALTOR® Institute (GRI).
The Graduate, REALTOR® Institute (GRI) symbol is the mark of a real estate professional, who has made the commitment to provide a high level of professional services, by securing a strong educational foundation.
Buying property is a complex and stressful task. In fact, it's often the biggest single investment a customer will make in his lifetime. At the same time, real estate transactions have become increasingly complicated.
New technology, laws, procedures and the increasing sophistication of buyers and sellers requires real estate practitioners to perform at an ever-increasing level of professionalism.
GRI designees :
Have pursued a course of study for progressive real estate professionals.
Have developed a solid foundation of knowledge and skills to navigate the current real estate climate—no matter what its condition.
Are recognized nationally.
Act with professionalism and are committed to serving their clients and customers with the highest ethical standards.

Certified International Property Specialist / CIPS®
The Certified International Property Specialist Network (CIPS Network) comprises 2,500 real estate professionals from 50 countries and is the specialty membership group for global business practitioners of the National Association of REALTORS®. CIPS® designees are REALTORS® prepared to service the growing international market in their local community by focusing on culture, exchange rates, investment trends, and legal issues.
Short Sales and Foreclosure Resource Certification / (SFR®)
The SFR® designation is awarded by the National Association of REALTORS® to real estate professionals having successfully finished training to:
Direct distressed sellers to finance, tax, and legal professionals
Qualify sellers for short sales
Develop a short-sale package
Negotiate with lenders
Limit risk
Protect buyers
Personal
Thinking about my personal hobbies and things I like to do, I realized that most of those sooner or later ended up in a business I founded. I love knitting (remember, Germany is a cold country). After a while, I was asked for some of the sweaters to be put on show in an exhibition. Soon I was selling sweaters and knitting material and was giving classes. I love sewing. After I finished my first own full dress, my female friends asked for prom dresses. I made and sold them, way too cheap as I now realize. I loved math in school, love it still today and of course did all my accounting and tax declarations myself. And ended up as a treasurer for a multinational company.
I come from a large urban craftsmen family, so construction, planning, design and building is somehow in my blood. After helping friends designing and renovating their homes or selling and buying their properties became real work, I started a Real Estate consulting company.
Having more than a hundred cookbooks is probably a give away for my love of cooking, dressing a beautiful table and having people for elegant dinners. Not surprising I ended up owning a catering business. In hindsight, that might have been one of my best decisions, because I met my husband 30 years ago, when catering for his software company's business events.
My husband loves scuba diving, and is a scuba instructor. To spend more time with him, I became an instructor myself and, you guess it, opened a scuba shop and school in Hamburg. When I finally sold it, it was the largest business of that kind in North Germany, with several hundred students a year and 15 instructors working for me. We then ventured into Cave Diving, and that lead to Florida, but that's another story.
I like to believe that all these hobbies and things I love to do culminate in my love for the Real Estate business.
So here I am, you're REALTOR®. Call me!
[agent_profiles id="2276″]
Only real estate professionals who are members of the National Association of Realtors (NAR) may call themselves REALTORS®.
All REALTORS® must subscribe to NAR's strict Code of Ethics, which is based on honesty, professionalism and the protection of the public.
Click this link for more information about our Code of Ethics
Copyright © 2015 MMB Images LLC. All rights reserved. All content contained on this website cannot be copied or used off this Web site in any way without express written consent of the owner. The information provided on this website is for the personal, non-commercial use of consumers, and may not be used for any purpose other than to collect information or identify properties you may be interested in purchasing. Some properties which appear for sale on this site may no longer be available, because they are sold, under contract, or no longer being offered for sale. All information provided is deemed reliable but not guaranteed and might change without notice.
I am not in any way affiliated with any enterprises/businesses of JP Piccinini and/or JP And Associates REALTORS
If you want to contact them, the address is:
6136 Frisco Sq Blvd, #200 Frisco, TX 75034 972-375-9448 / w w w . j p h o m e s f o r s a l e . c o m