2017 December Housing Data Report
WASHINGTON (January 24, 2018) — The 2017 December Housing Data Report shows that existing-home sales subsided in most of the country in December, but 2017 as a whole edged up 1.1 percent and ended up being the best year for sales in 11 years, according to the National Association of Realtors®.
Total existing-home sales, (more here on NAR's existing home sales post), which are completed transactions that include single-family homes, townhomes, condominiums and co-ops, increased 1.1 percent in 2017 to a 5.51 million sales pace and surpassed 2016 (5.45 million) as the highest since 2006 (6.48 million).
In December, existing-home sales slipped 3.6 percent to a seasonally adjusted annual rate of 5.57 million from a downwardly revised 5.78 million in November. After last month's decline, sales are still 1.1 percent above a year ago.
Lawrence Yun, NAR chief economist, says the housing market performed remarkably well for the U.S. economy in 2017, with substantial wealth gains for homeowners and historically low distressed property sales. "Existing sales concluded the year on a softer note, but they were guided higher these last 12 months by a multi-year streak of exceptional job growth, which ignited buyer demand," said Yun. "At the same time, market conditions were far from perfect. New listings struggled to keep up with what was sold very quickly, and buying became less affordable in a large swath of the country. These two factors ultimately muted what should have been a stronger sales pace."
The information in this infographic is from the December 2017 Existing-Home Sales data.
2017 December Housing Data Report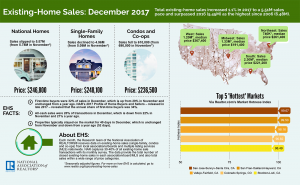 Read the full article about the 2017 December Housing Data Report here:
The full NAR article